Our family enjoyed a week in a rental house in Frisco, North Carolina at the end of the Summer season. The
house was situated within walking distance to the Atlantic Ocean with sand dunes separating us from the water. It was an ideal location for the 8 adults and 12 children.
One night we decided that a beach campfire would be a fun activity for all of us. So we drove to the closest convenience store and purchased marshmallows and bamboo spits to toast those delightfully sweet, sticky and fluffy white morsels. Of course we needed firewood and an accelerant to get the wood burning. The store sold small packages of fire wood and we bought a can of liquid fire starter.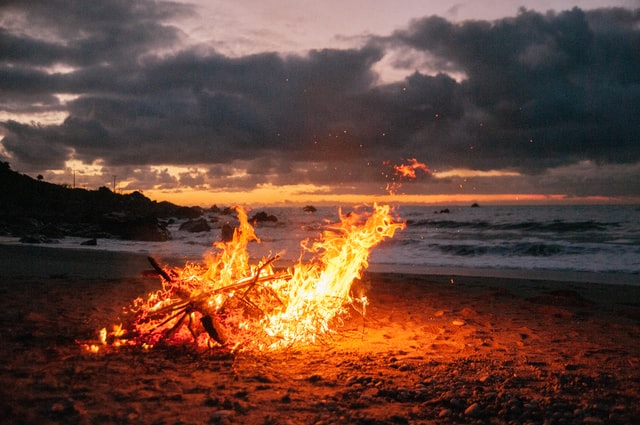 When we got back to the house, I noticed that there was a white slip of paper wrapped with the package of
wood. It was printed by the National Park Service, U.S. Department of the Interior, Cape Hatteras National Seashore
and it said in bold letters "Beach Fire Permit". It listed two permit procedures; "1. Read Beach Fire Regulations
listed on back, 2. Sign and date below." I am a stickler when it comes to obeying things like that, so I read the
Regulations, signed and dated the permit and delegated to my son and sons-in-law to light the fire.
They did a great job and in the cool, dark, starlit night, we enjoyed the mesmerising red, orange and yellow
flames as they devoured the wood and provided heat for comfort and for toasting the marshmallows.
We were enjoying the fire for about a half hour, when a Park Ranger appeared out of the darkness and stood
by the fire. I approached him and asked if I could be of any help. I told him that I had the signed permit back at the
house and he said that someone had complained that there was a bonfire on the beach. He was dispatched to
investigate the report. When my son-in-law retrieved the permit and showed it to him, he said that the fire was not in
compliance with the regulations in that it was not below the high tide mark. I was completely taken off guard because
I thought the placement of the fire was away from vegetation and any thing flammable. I then realised that I had
indeed read the regulations, but I had not read them as thoroughly as I should have. I was definitely in violation of the regulations, so I apologized to him.
He said that we would have to extinguish the fire immediately and spread out the wood and ashes and then drown it with sea water until it was cool to the touch. He went to his Jeep and secured a shovel for us and the older boys did what he told them to do while he watched them extinguish our fire. While the boys were doing their job, I conversed with him about his career as a Park Ranger and it was a very informative and cordial talk. Then we walked toward his vehicle and he asked me for my identification because he was going to have to give me a formal warning instead of a fine. I was surprised but thankful for his graciousness as he filled out the warning and gave me a copy. The warning said, "This warning has been issued to you for a violation of the regulation as shown above . It has been issued in lieu of a summons or fine."
I was embarrassed but I had violated the regulation out of a sincere assumption that I had followed it. My transgression was that I was not diligent in paying attention to each regulation. I had assumed that I was in compliance and I felt confident when I first spoke to him. Then he pointed out my error. There was no excuse, and he could have rightly given me a fine, but he recognized that I had not intentionally disregarded the regulations. I sincerely thought I was complying.
Did you know that the Lord God recognizes that there are two categories of sin? There is presumptuous or
flagrant sin, and there is innocent sin, or sins we are unaware of. In Psalm 19:12-13, David writes these words, "Who can know all his errors? Please do not punish me for sins I am unaware of. Moreover, keep me from committing flagrant sins; do not allow such sins to control me. Then I will be blameless, and innocent of blatant rebellion" (NET). What David is addressing is the fact that every day we walk in this world and do things, think things and say things that we are completely unaware of. Some of those things are of no moral consequence but some of those things are sinful. While we had no intent to do them, they are still sins. We are imperfect believers who are battling with our sinful flesh all the time.
As followers of Jesus Christ, our desire should be blameless before a Holy God. The Apostle Peter wrote these words in 1 Peter 1:14-16, "Like obedient children, do not comply with the evil urges you used to follow in your ignorance, but, like the Holy One who called you, become holy yourselves in all of your conduct, for it is written, "You shall be holy, because I am holy." When we confess our sins as in 1 John 1:9, God forgives the sins we confess and also forgives our unknown sins. So keep a shortlist between you and the Father and be sensitive to the conviction of the Holy Spirit.